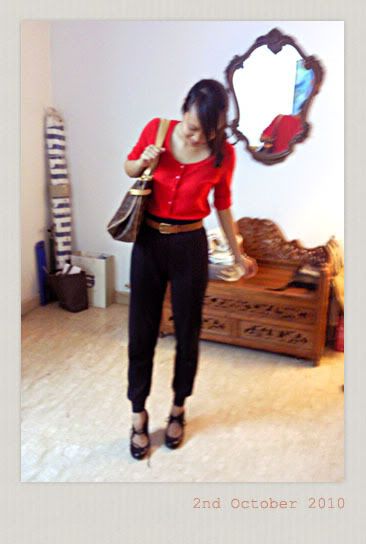 Cardigan: Coco Latte; Pants: Supre; Belt: I got it from my momma!; Shoes: Aldo; Bag: Louis Vuitton; Bracelet: Gift from Janey!
Apologies for the really blur picture. Came back after a really tiring day and quickly asked Chris to snap this for me on my handphone's camera. Curse you lousy 5 mp camera!
I bought these pants a while back when I was in Sydney but only finally wore them last night for the first time. They make my ass look long, as do all back-unpocketed high-waisted pants do. Chris had a good time making fun of me saying "So how long did you go jogging for in these?" while casually tugging onto my pants. Harumph. I stand by my pants!
Just as every Croc sandal owner would say in defence at least once in their Croc-wearing days, "They're comfortable!"